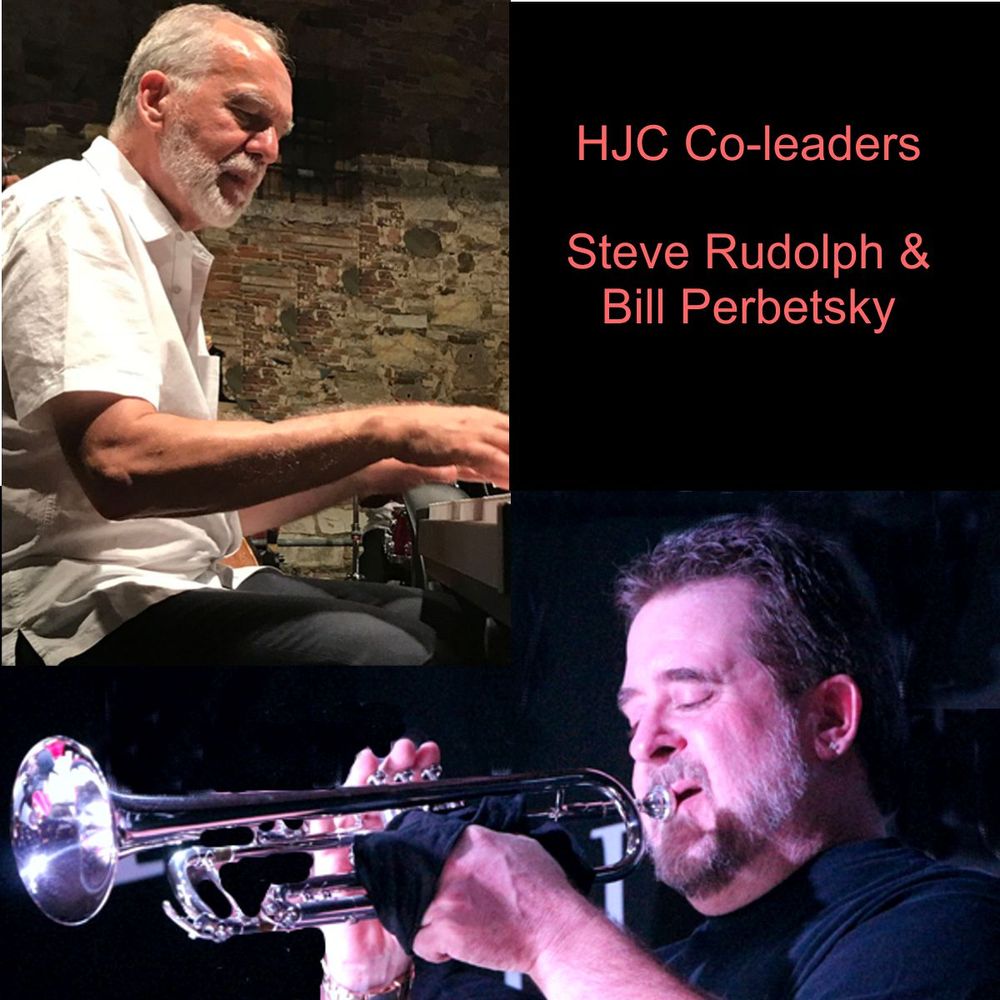 Harrisburg Jazz Collective (HJC)
Central PA's Premier Big Jazz Band
Founded in October of 2014, Steve co-leads this 17 piece ensemble with trumpeter Bill Perbetsky and the musical arrangements are from the historic big bands (Basie/Ellington/Dorsey/James) to modern jazz arrangements (Thad Jones/Bob Florence/Bob Mintzer/Steve Allee/Mike Tomaro/Gordon Goodwin) and originals from members and friends. Originally named the River City Big Band, we changed the name in order to release recordings under an original name (we found there were 8 other River City Big Bands in the world). 
We have a new venue to go along with our new name - The Englewood Brewery - that seats 160 with great sound, wonderful food and even better craft beers.  HJC will appear at Englewood on Oct. 20, Nov 17, & Dec 8, 2021. Tickets are available in advance from the homepage of this website - www.steverudolph.com.
Link to article on The Band in theBurg HERE
Featured players have included:
SAXES: Tom Strohman, Rick Hirsch, Ryan Kauffman, Dave Yinger, Oliver Fairley, Mike Druck, Jonathan Ragonese, Dave Wilson, Dan Hoover, David Stambler, Kate Anderson, Dave Shultz, Daryl Brentzel  
TROMBONES: Jim McFalls, Chuck Dressler, Ron Axsom, Greg Strohman, Mike Yinger, Steve Shiffer, Mark Lusk, Dan Tomasonne, Bill Gingrich, 
VOCALISTS: Cathy Chemi, Dred "Perky" Scott, Amy Banks
TRUMPETS: Bill Perbetsky, Barry Long, Dale Orris, Eddie Severn, Skip Stine, Scott Ainscough, Tim Thompson, Jon Shaw    
BASS: Steve Meashey, Joshua Davis, Jim Miller   
DRUMS: Kevin Lowe, Dave Zygmunt, Fred Griggs, Marko Marcinko, Jeff Stabley, Pete Lazorcik, Todd Harrison, Mark Hunsberger  
PIANO  Steve Rudolph, Connor Rohrer, Andy Roberts. 
SPECIAL GUESTS:  Chuck Redd, Ali Ryerson, Eric Alexander, Denis DiBlasio, Hendrik Meurkens, Jonathan Ragonese
HJC is available for engagements including concerts. parties and dances.
Steve has special Holiday arrangements available for all of these ensembles and all groups are available for private events, house parties, and more.  Please email or call for pricing and availability - steve@steverudolph.com 
717-574-567 (call or text)
SUPPORT LIVE MUSIC!!!
(TO CHECK FOR AVAILABLE DATES VISIT STEVE'S CALENDAR)